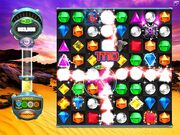 The Score Multiplier is a gameplay element that appears in Bejeweled Twist, Bejeweled Blitz, and Bejeweled 3. It multiplies the base value during gameplay. The multiplier only appears in two modes in Bejeweled 3, Ice Storm and Lightning. The multiplier is located above the player's current score. No combos and the chain indicator empty the multiplier decreases.
Gallery
Bejeweled Blitz
Bejeweled 3
Names in other languages
Language
Name
Meaning
French
Multiplicateur de score
Score Multiplier
German
Punktemultiplikator
Points Multiplier
Italian
Moltiplicatore di punti (Bejeweled Twist)
Moltiplicatore (Bejeweled 3)
Points Multiplier
Multiplier
Japanese

スコアマルチプライアー


Sukoa Maruchipuraiā
Score Multiplier
Portuguese
Multiplicador de pontos
Points Multiplier
Spanish
Multiplicador de puntuación (Bejeweled Twist)
Multiplicador (Bejeweled 3)
Score Multiplier
Multiplier
Trivia
On Bejeweled Twist;

Filling the Multiplier to its maximum is the only way to create Fruit Gems.

This article is a stub. You can help Bejeweled Wiki by expanding it as much as possible.
Ad blocker interference detected!
Wikia is a free-to-use site that makes money from advertising. We have a modified experience for viewers using ad blockers

Wikia is not accessible if you've made further modifications. Remove the custom ad blocker rule(s) and the page will load as expected.