General information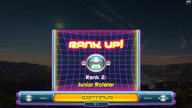 Rank Insignia is an object that appears in Bejeweled Twist.It has 100 different appearances,and is also displayed on the levelup bar.
Each rank insignia comes with a rank.
Trivia
If you edit ranks.txt,the insignia is still the same.For example renaming your actual rank to Sultan of Spin will not display that insignia.
If you rename ranksold.txt->ranks.txt and ranks.txt->ranksold.txt,you will not get the old ranks.Instead,you keep the new ranks somehow.

This article is a stub. You can help Bejeweled Wiki by expanding it as much as possible.
Ad blocker interference detected!
Wikia is a free-to-use site that makes money from advertising. We have a modified experience for viewers using ad blockers

Wikia is not accessible if you've made further modifications. Remove the custom ad blocker rule(s) and the page will load as expected.