We need more Hypercubes and Star Gems.

This article is currently under construction. So expect incomplete information on this page.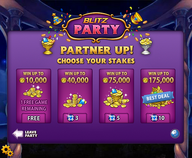 Party mode (known as Blitz Party) is one of the game modes from Bejeweled Blitz where a player can challenge a Facebook friend as his/her partner and earn coins together by accomplishing the Team Goal with their scores combined and making certain number of Flame Gems, Star Gems, and Hypercubes. The player is almost guaranteed to find a Rare Gem featured in this mode including a Level 2 Kanga Ruby.
Gallery

This article is a stub. You can help Bejeweled Wiki by expanding it as much as possible.
Ad blocker interference detected!
Wikia is a free-to-use site that makes money from advertising. We have a modified experience for viewers using ad blockers

Wikia is not accessible if you've made further modifications. Remove the custom ad blocker rule(s) and the page will load as expected.