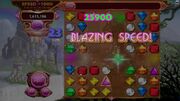 The Ignition Meter is a special ability that only occurs in Bejeweled Blitz and in Lightning from Bejeweled 3. The meter starts when the Speed Bonus reaches 1,000 (1,500 in the console versions of Bejeweled 3). When that happens, orange fluid will appear across the Speed Bonus and after 15 matches (9 in the Chinese version), the meter will be full, which triggers Blazing Speed.
Ad blocker interference detected!
Wikia is a free-to-use site that makes money from advertising. We have a modified experience for viewers using ad blockers

Wikia is not accessible if you've made further modifications. Remove the custom ad blocker rule(s) and the page will load as expected.