We need more Hypercubes and Star Gems.

This article is currently under construction. So expect incomplete information on this page.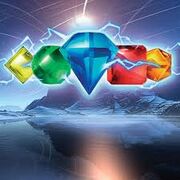 A Gem is a crystal-like object found in the Bejeweled (series). They come in many colors and shapes, and are the basis of the Bejeweled. The gameplay region is full with gems, and the player must clear them by swapping other adjacent gems. Gems can be swapped left and right or up and down. Depending on the mode the player is in, they will have to swap as many gems as they can to advance to the next level.
Overview
Normal Gems
Red Gem
In the first and second games, the Red Gem had a quadratic shape. In Bejeweled 3, it had 8 edges to give it a more 'round' shape.
Orange Gem
In the first game, the Orange Gem had a hexagonal shape. In Bejeweled 2 and 3, it has an icosahedron shape. It does not appear in Diamond Mine.
Yellow Gem
In all three games, the Yellow Gem is shaped like a rhombus, similar to the Red Gem. It is tilted at a 45 degree angle and is also a tad bit "sharper" than the Red Gem.
Green Gem
In the first game, the Green Gem was shaped similar to the Red Gem in Bejeweled 3. In Bejeweled 2 and 3, it is shaped more spherical and shaped like an octagon.
Blue Gem
The Blue Gem, also known as the Cyan or Light Blue Gem, was shaped like a diamond in all three games. It had a light blue color in Bejeweled but starting with Bejeweled 2, its color was blue.
Purple Gem
The Purple Gem, also known as the Pink Gem, or the Magenta Gem, has a triangular shape and a pinkish purple color throughout all three games.
White Gem
In all three games, the White Gem has a rough spherical shape. It is the smoothest of all seven normal gems.
Special Gems
See Special Gems.
Rare Gems
See Rare Gems.
Trivia
Ever since Bejeweled was released, gems appeared in several PopCap games as cameos. These are the following:

In Zuma's Revenge!, a White Gem and a Red Gem can be seen in the statue of Serpent Scuffle (Zone 6).
In Alchemy, different colored variations of the green gem (except the stage 5 marker is actually a green version of the white gem) appear as stage markers.
In some versions of

Plants vs. Zombies

, gems from Bejeweled 2 can be found under the

achievements page

after scrolling down the achievements. Other cameos from other PopCap games can be found as well.
In Bookworm Adventures Vol. 1, a Red Gem is the stage marker in the chapter "Underworld".

Most gems in the series are based on Bejeweled, except for Topaz and Crystal.
Names in other languages
Language
Name
Meaning
Chinese

宝石


Bǎoshí
Gem
French
Gemme
Gem
German
Stein
Stone
Italian
Gemma
Gem
Japanese

ジェム


Jemu
Gem
Portuguese
Pedra
Stone/Gem
Spanish
Joya
Jewel
Ad blocker interference detected!
Wikia is a free-to-use site that makes money from advertising. We have a modified experience for viewers using ad blockers

Wikia is not accessible if you've made further modifications. Remove the custom ad blocker rule(s) and the page will load as expected.