"Created by forming 4 gems of the same color in a line. Explodes when matched!"
— Bejeweled Twist, mouseover description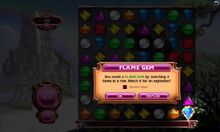 Flame Gem is a type of Special Gem that appears in the Bejeweled series that was first appeared in Bejeweled Twist. It is the successor of the Power Gem from Bejeweled 2 with a redesigned flame appearance and detonation animation.
Overview
It is usually created when the player matches 4 gems of the same color. Alternately on certain games, it can also be created by matching 5 or 6 gems in an "L", "T", or "+" shape on Bejeweled Twist or matching 4 gems in a square on Bejeweled Stars. When detonated, it clears gems in flames in a 3x3 area around it as well as triggering any special gems, with any Hypercube and Dark Hypercube detonating based on the color of the Flame Gem, on the same area.
Combination effects
In Bejeweled Skies, this Special Gem can be swapped with other Special Gems in order to produce the following effects:
Flame Gem: Detonates in a 4x3 area with an additional 6 tiles at the end of the area's middle column and two rows.
Star Gem: Detonates themselves in the same swap end location.
Hypercube: Detonates the swapped Flame Gem as well as turning all normal gems into Flame Gems and detonating any special gem of the same color.
Dark Hypercube: Detonates the swapped Flame Gem as well as turning all normal gems into Hypercubes and detonating any special gem of the same color.
Trivia
When looked closely, the player can see sparks coming off the gem.
A yellow Flame Gem's fire is slightly a more tone of orange than the other colors.
It appears that the flame animation is on a different layer than the gem itself, as when a Flame Gem is spinning, the fire stays in place. This is especially evident with red Flame Gems.

Also in PC and Mac versions of Bejeweled Blitz and Bejeweled 3, if the player looks very closely when the spacebar is pressed (which pauses the game), the flames completely disappear just before the gems themselves disappear in order to pause the game. This also occurs when the 'Menu' button is accessed.

In some versions of Bejeweled 3, adjacent gems will flash with the bright light given off of the Flame Gem.
In Bejeweled Classic, Flame Gems have slightly different sounds.
Names in other languages
Language
Name
Meaning
Chinese

火焰宝石


Huǒyàn Bǎoshí
Flame Gem
French
Gemme en feu
Blazing Gem
German
Flammenstein
Flame Stone
Italian
Gemma di Fuoco (Bejeweled Twist)
Gemma di fuoco (Bejeweled 3)
Fire Gem
Japanese
炎のジェム (Bejeweled Twist)
Honoo no Jemu
ファイヤージェム (Bejeweled 3)
Faiyā Jemu
Flame Gem

Fire Gem
Portuguese
Pedra-fogo
Fire Stone/Fire Gem
Spanish
Joya en llamas
Flaming Jewel
Gallery
Bejeweled Twist
Bejeweled 3
Bejeweled Stars
Ad blocker interference detected!
Wikia is a free-to-use site that makes money from advertising. We have a modified experience for viewers using ad blockers

Wikia is not accessible if you've made further modifications. Remove the custom ad blocker rule(s) and the page will load as expected.