Endless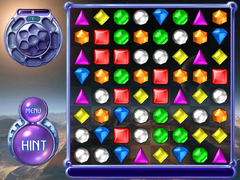 "Relax with this neverending game."
— Game menu description from Bejeweled 2
Endless is one of the four game modes in Bejeweled 2 available from the start. Unlike the other modes in Bejeweled 2, you cannot lose in this mode.
Overview
Since this mode never ends, the player can play as long as he/she wishes and this mode is also great for practicing how to make Power Gems and Hypercubes.
Just like Bejeweled 3's Zen mode, there is a collecting system. In this mode, it is diamonds, and there is a specific order of these diamonds.
Reaching level 281 will unlock a secret mode, called Finity mode.
Trivia
The last diamond is earned on level 280. Levels after this one no longer reward diamonds.
This mode, Puzzle mode, and Cognito mode are the only modes in Bejeweled 2 that the player cannot lose.
Names in other languages
| Language | Name | Meaning |
| --- | --- | --- |
| French | Infini | Infinity |
| German | Endlos | Endless |
| Italian | Infinita | Infinity |
| Portuguese | Infinito | Infinity |
| Spanish | Sin fin | Endless |

This article is a stub. You can help Bejeweled Wiki by expanding it as much as possible.
Ad blocker interference detected!
Wikia is a free-to-use site that makes money from advertising. We have a modified experience for viewers using ad blockers

Wikia is not accessible if you've made further modifications. Remove the custom ad blocker rule(s) and the page will load as expected.