Chuzzle Bingo!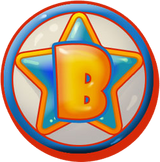 Chuzzle Bingo! is a trophy that can be earned in Chuzzle. It is awarded for clearing one color of Chuzzle across the entire board in any game mode.
The image representing this trophy is of a white disk with a blue outline. On the disk is a blue five-pointed star with a yellow outline, with a large 'B' situated on it.
Names in other languages
Language
Name
Meaning
French
Bingo !
Bingo!
German
Chuzzle-Bingo!
Chuzzle Bingo!
Italian
Chuzzle bingo!
Chuzzle Bingo!
Japanese

チャズルビンゴ!


Chazuru Bingo!
Chuzzle Bingo!
Portuguese
Bingo chuzzle!
Chuzzle Bingo!
Spanish
¡Bingo Chuzzle!
Chuzzle Bingo!
Ad blocker interference detected!
Wikia is a free-to-use site that makes money from advertising. We have a modified experience for viewers using ad blockers

Wikia is not accessible if you've made further modifications. Remove the custom ad blocker rule(s) and the page will load as expected.