Butterfly Bonanza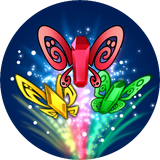 Butterfly Bonanza is a badge that can be earned in Bejeweled 3. It is awarded for clearing specific numbers of Butterfly Gems in one move in either Butterflies mode or any of the Butterflies mini-quests in Quest mode.
The badge that represents Butterfly Bonanza is a picture of three Butterflies flying upwards. The one to the left is a Yellow Butterfly, the one in the middle is a Red Butterfly, and the right one is a Green Butterfly. The Butterflies are probably supposed to look like they are escaping.
Benchmarks
Bronze - Clear at least 4 Butterflies in a single move.
Silver - Clear at least 6 Butterflies in a single move.
Gold - Clear at least 8 Butterflies in a single move.
Platinum - Clear at least 10 Butterflies in a single move.
Names in other languages
Language
Name
Meaning
Chinese

蝴蝶幸运


Húdié Xìngyùn
Lucky Butterfly
French
Papillons à foison
Butterflies Galore
German
Falterbonanza
Butterfly Bonanza
Italian
Sfarfallio prezioso
Precious Fluttering
Japanese

バタフライ鉱脈


Batafurai Koumyaku
Butterfly Streak
Portuguese
Bonança de borboletas
Butterfly Bonanza
Spanish
Bonanza de mariposas
Butterfly Bonanza
Ad blocker interference detected!
Wikia is a free-to-use site that makes money from advertising. We have a modified experience for viewers using ad blockers

Wikia is not accessible if you've made further modifications. Remove the custom ad blocker rule(s) and the page will load as expected.