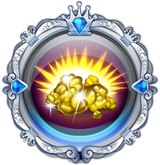 All That Glitters is an Achievement and a Trophy that can earned in the Xbox 360 and PlayStation 3 versions of Bejeweled 3 respectively. It is awarded for getting all Gold badges in the game.
The image representing the Achievement/Trophy is of a pile of gold nuggets giving off a bright golden glow. The design of the image resembles that of the the Elite Badge Levelord.
Trivia
Ad blocker interference detected!
Wikia is a free-to-use site that makes money from advertising. We have a modified experience for viewers using ad blockers

Wikia is not accessible if you've made further modifications. Remove the custom ad blocker rule(s) and the page will load as expected.